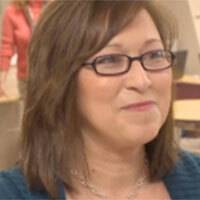 MELINDA ABERCROMBIE
haron Furr had a big surprise for Chester school teacher Melinda Abercrombie. It was a special award from the foundation named for Sharon's sister Cynthia Furr, a professor at Winthrop University and Cynthia's 2-year-old daughter, McAllister.
This year the Cindy Mackie Foundation wanted to do something special for all the children at the Chester Academy of Teaching and Learning. Melinda Abercrombie had written the foundation asking for some books to start a school library. She was surprised when Sharon Furr showed up at the school Wednesday morning with a $14,000 check and a lot more.
"Dreams do come true," Furr said to Abercrombie.
School staff had been tipped off to the award and they all crowded into the room to watch the look on Abercrombie's face as Furr told her what else the foundation would contribute, but only with the help of partners. There will be furniture, electronics, even a stage and bookshelving built, and lets' not forget the Artist that will be involved, for a beautiful center that will be named after she and thebaby, all provided by great partners willing to step out and take a leap of faith for this extraordinary cause – The CindyMackie Foundation Literacy and Performing Arts Center. After getting over her initial shock, Abercrombie said, "It's going to be a place where children walk in and say, 'Wow.'"
"How could anyone walk into a literacy and performing arts center that is named for Cindy and the baby and not feel something wonderful when they step inside," asked Sharon Furr. As a professor and music instructor, Cynthia Furr was always an inspiration to her students and the hope is now, with this new center, their legacy will continue and inspire. "It was a vision, and to know that today is the day it will happen for our school and our community is wonderful," said Abercrombie.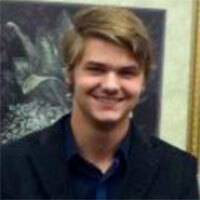 CHRISTOPHER BELK
Christopher Belk, one of the foundation's Higher Education Scholarship recipients. Chris is currently a senior at North Lincoln High School and has been accepted into the Anderson University School of Music. Chris was chosen for his outstanding achievements in band, chorus, theatre and individual musical pursuits. Chris participates in bluegrass guitar competitions and is the Assistant Worship Leader at his church, along with leading music at various youth groups and country-wide rallies. Congratulations Chris!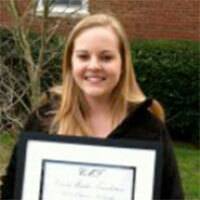 BRITTANY BOSWELL
Brittany Boswell, recipient of the Higher Education Scholarship, isfulfilling her lifelong dream of attending Winthrop University and following in her mother's footsteps by becoming a Special Education teacher. Making a difference in a child's life is Brittany's passion. She successfully completed the LEAP program her freshman year, maintained her LIFE scholarship all four years of eligibility, made the Dean's list and was accepted into The College of Education in the Spring of 2012. To CN2 News today, Brittany declared, "I'm going to change the world!" And we (CMF) think you are just the young lady to do it! Congratulations Brittany!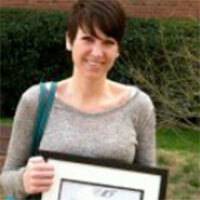 AMY GIEBEL
Amy Giebel, recipient of the Higher Education Grant, completed her AA in Fine Arts at CPCC last fall and is currently working toward her Masters degree at Winthrop University. She is an talented artist and single mother to a beautiful daughter in kindergarten. Amy understands that a great education will allow her to provide the best possible future for herself and her precious daughter.
And we (The CindyMackie Foundation) agree! Congratulations Amy!
LILLIANNA SIRMON
Lillianna Sirmon, age 9, from Gaston Christian School is our newest Mackie Grant recipient. She is a music lover, singer, dancer, and outstanding student with a love of reading. In addition, she has a compassionate heart and genuinely cares for others. She recently demonstrated this by her Locks of Love donation in honor of a two year old friend suffering from cancer. Her monetary award will be used to attend music and dance camps this summer.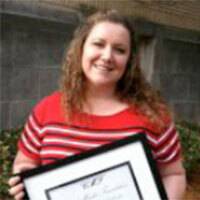 KATHERINE WARE
Katherine Ware received her Bachelor of Fine Arts at Columbus State University and is currently pursuing a degree in Art Education at Winthrop University. She feels blessed to have the ability to follow her dreams. Katherine believes that by completing her studies she will be able to share her passion for art with others. And her goal is to make a real difference in the lives of children. Congratulations Katherine!